"Mdj Studio Sculpture Gallery"
These sculpture images are the sole property of the artist, and may not be reproduced on the internet, redistributed, sold, altered, enhanced, modified by artificial, digital or computer imaging, or in any other form without the express written permission of the artist. When accessing this site, I do so agree that I will not download, or use any of the images found on this web site for any purpose other than personal viewing. Specifically, I agree not to publish, or allow to be published on other web sites, magizines,news articals or in commercial print advertising, any images found on this web site without Specific permission of this artist. Subject to Copyright Laws of the United States of America and of European Community Copy Right Laws.
ALL ART IS FOR SALE.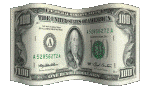 Please contact the artist for purchase information.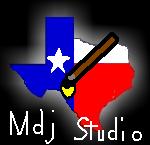 Michael D. Jenkins studied at the University of Texas at Tyler and found art to be his place
in life.....For more information on the artist see Resume'at bottom of page.
University of Texas at Tyler

http://www.uttyler.edu
Viewers and Collectors Welcome.
***************************
First Image
Title: "Hom Family" Year Created: 1997 Medium: Bronze 3 pieces Size Width: 4.25 inches Father,8 inches Mother, 3 inches Baby Size Height: 9.5 in. F, 4 in. M, 2.75 in. B Size Depth: 9in F, 8.75 in. M, 5 in. B Theme: Figurines Price: $900.00 Description: Series of works from lead painting done in titled " Last Supper" of the Hom.

*************************************

Second Image

Title: "Killing Our Future" Year Created:1996 Medium:Mixed on Foam Size Width: 24 inches Size Height: 60 inches Size Depth:18 inches Theme: Narritive Price: US$ 0.00 -SOLD- Description: Robot type abused child with time clock running out brain cavaty with images on brain.

******************************************

ALL RIGHT RESERVED AND COPYRIGHTED . (c)

CONTACT THE ARTIST

Michael D. Jenkins

Austin, Texas 78721

512-353-5683 or Cell 214-562-6316

PLEASE CONTACT THE ARTIST FOR ALL COMMISSION WORKS WORLWIDE.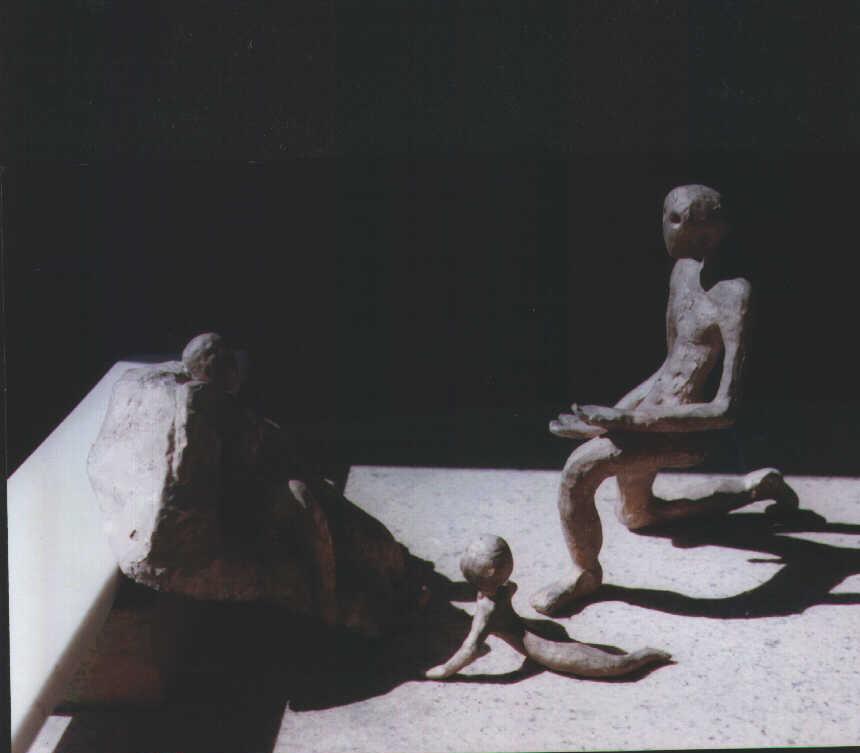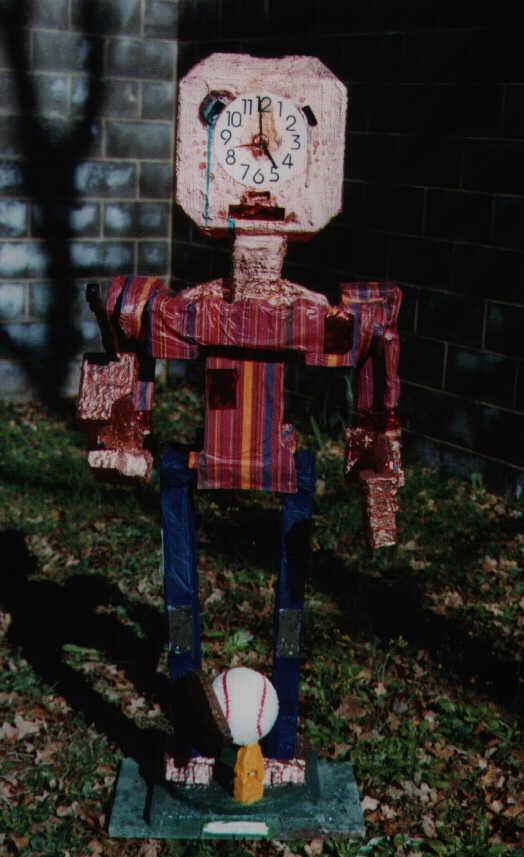 Third Image

Title:"Protrusion" Year Created: 2001 Medium:Mixed on Foam Size Width: 32 Inches Size Height:5 foot 2 inches Size Depth:48 inches Theme: Abstract form Price: US$0.00 - SOLD - Description: Abstract form resuembling a spaceman with protrusion in wood grain.

FOR MORE INFORMATION, CONTACT THIS ARTIST IF INTERESTED IN THESE SCULPTURES


******************************

RESUME'

MICHAEL DON JENKINS
1117 Delano Street Austin, Texas 78721
United States of America
Office: 512-926-6147
dalart@yahoo.com
https://www.angelfire.com/tx3/Mdjgallery

GOLES:
To access and implament creative ideas for the betterment of privet collector or companies and their customers.

EDUCATION:
Mesquite High School 1965-1969. El Centro Jr. College Dallas, Texas. 1974-1976. Vedio Technical Institute Dallas, Texas. 1983-1984. ( Went-out- of of Business in 1989). Tyler Jr. College, Tyler, Texas. 1992-1996. Eastfield Jr. College, Mesquite, Texas. 1993-1994. University of Texas at Tyler, Tyler, Texas. 1995-1997. nondegree.


MILITARY SERVICE:
Entry into service 1970. United States Air Force Na'trang AFB, Republic of South Vietnam. (SAC) Dyess AFB, Abilene, Texas. Gaum Mi United States Territory Pacific. Discharge 1974 type Under Honorable Conditions early out.

RELATED WORK HISTORY:
Phoenix Corporation Tustin, California. 1985-1986. Out of business 1986. Shipping Clerk;Production Manager; Advertising assistant to brochures and News Paper Ads; Graphic Designer; Assistant to Video commercial director for Ads campaings on television commercials.
Marie Levall, Dallas,Texas. 1988-1990. Visual merchiedise Director and window dresser. Visual Lighting Director for trunk shows and runway shows. Company-went out of busiess in 1991.
KETK channel 56 Tyler, Texas. 1992-1992. 903-581- 5656. Video graphics operator and designer for television broadcast news, sports, weather and special events. Control booth Operations.
Hobby Lobby arts and crafts stores: Mesquite, Texas. 1997-1997. 972-329-6501. Artist and Director of wall mural for store Titled "Mesquite Rodeo". Irving, Texas. 1997-1998. 972-790-5703. Artist and Director of wall mural project for store Titled " Hot Air Balloon Race". Sherman, Texas. 1998-1998. 903-870-6-9669. (Note: Remeoved in 1999.) Artist and Director for wall murals project Titled "Sherman 1868" and "Skys the Limit".
Bristol Hotels, Hampton Inn West End down town Dallas, Texas. 1998-1999. Artist of six wall mural project for employee lounge Titled " Clipboard Series"
Bristol Hotels & Resorts. Wooden furniture shelf sculpture piece Titled "Four", Hampton Inn West End. Pannel Painting Titled "Southwest Dallas 1858".


SKILLS:


2D Art, 3D art, Art history research, Image drawing different medias, IBM Paintbrush, Ten Key, Microsoft Word 6.0, Excel, Windows98, Microsoft Paint Pallet, Lotus, Internet and Explorer, DOS,Sony Floor Cam, Magnavox Editor, IBM PC, CAD, Sony Editor, Corel Draw, Quark, Illustrator. HTML basic, upload and download, capture past and cut, insert, tranfer images, desk top publishing,water color, many more.


WEB GALLERY, EXHIBITIONS and COLLECTIONS


Along with portfolio can be shown upon request.
https://www.angelfire.com/tx3/Mdjgallery and http://www.123soho.com/artresources under dalart

CREDITS and COLLECTORS

Class Act Gallery Tyler, Texas and Chacago IL. " Old Man Praying" and "Prince and Princess of Aficra"1993 on glass.
Calzone's Italian Kitchen Mesquite, Texas."Pizza Time",1996/1993 on canvas.
Tanglewood Marina Wills Point, Texas. Metal sculpture."The One That Didn't Get Away",1996.
Bob and Carol T.M. Wills Point/Tanglewood, Texas," Paintings "Christ's Agony"and Triptic "Dog Gone" on canvas,"Cat Watch" on canvas,"Go Fish"on wood ,1993/1994.
Karen S. T.M. Wills Point/Tanglewood of B.J. Long in Texas. Painting," Black Birds"1994.
Debbi Clem Wills Point/Tanglewood, Texas "Coke Cans" a study in light reflections 1994.
Hobby Lobby arts and craft stores. Wall murals.1997-1999. Mesquite, Texas " Mesquite Redeo" on foamboard, Irving, Texas "Great Hot Air Balloone Race", Sherman, Texas. " Skys the Limit" and "Sherman 1868." 1999
United Way fund raiser for Hampton Inn W.E. Dallas, Texas. Painting on paper,"Just Say No, Bill".(Bill Clinton,President of USA about Fast Food.) 1997.
Hampton Inn W.E. Hotel Dallas, Texas. Pannel painting on wood, "South West Dallas 1858"
Bristol Hotels and Resorts, Dallas, Texas. Wooden sculpture "IV",1998/1999.
Micky Edwards in Balch Spring, Texas. Painting on pressed wood, "St. George the Dragon Slayer", The Last Dragon. 1999.
Natalie McFadden in Balch Spring, Texas. Painting on canvas, "The Last Unicorn" 1999.
Natalie Dignham of Germany. Painting, mixed on canvas "Wild Thing" 2001.
Kala in Poskeepise, N.Y. Painting "Our Time" 2000
City of Balch Springs, Texas. 3 Watercolors 8x10 and 1 computer IBM paint 8x10. "Balch Spring Community Center". (Donation by Margie R. Bagwell)2002.
City of Mesquite. Mesquite Arts Center. Mesquite, Texas. " Girl Underwater" Summer fun! 2001. 2002 donation by Artist to Mesquite, Texas.
Virtuoso Art Gallery on Lake Travis Austin, Texas for Hands Across The Nations benifit for Faith Home for Babies with AIDS. May 3rd 7:00 PM paintings donated " Happyness is a Warm Gun" 1996 mixed on canvas, " Last Supper" of the Hom 1996 mixed on Canvas.

To Contact the Artist